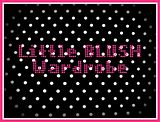 Ooo..dots and us just go so well together! A little dash of pink and it's a shopaholic's dream come true. Just love the black and white polka dot background. Though a bit unclear with the fonts,
Little Blush Wardrobe
must be doing the right thing with this button, cause we're definitely stopping by.
RM 40 | RM 35