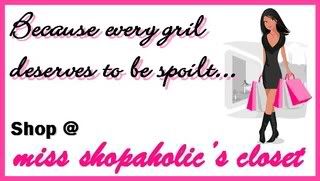 A shopaholic's heaven? Certainly looks that way.
Miss Shopaholic's Closet
features a shopaholic doing what she does best. Shopping! We certainly love the looks of this pink button and the caption "Because every girl deserves to be spoilt" and we just lurveeee being spoilt. Head on over to the blogshop and see it for yourself.
RM 42 | RM 29